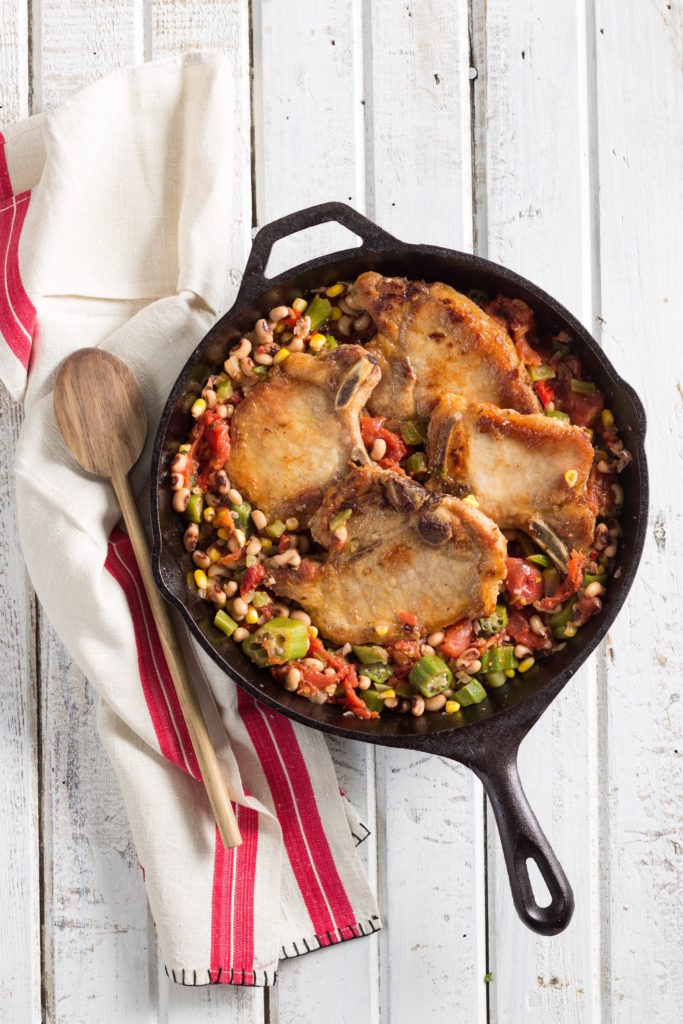 Simple Pork Chop Gumbo Skillet
This single-skillet pork chop dinner delivers the comfort of traditional gumbo in a fraction of the time.
Ingredients (10)
2 T Canola Oil
½ cup All Purpose Flour
1 tsp Cajun Seasoning
4 Bone In Pork Chops, 4-6oz ea
16 oz Frozen Mixed Vegetables
¼ cup Low Sodium Chicken Broth
15 oz Canned Black Eyed Peas
14½ oz Canned Diced Tomatoes
or 2 cup Diced Tomato
½ tsp Garlic Powder
Directions
Heat oil over medium-high in a large, deep skillet. Combine flour with 1/2 tsp Cajun seasoning. Coat pork chops in flour mixture and shake off excess. Place in pan and cook until light brown, about 2 minutes per side. Remove from pan and set aside.
Add frozen vegetables to pan and cook about 2 minutes, stirring constantly. Add chicken broth, peas and tomatoes and bring to a boil. Reduce heat to medium-low and stir in garlic powder and remaining Cajun seasoning.
Arrange pork chops on top of veggies. Simmer, covered, about 10 minutes, stirring occasionally. Remove lid and simmer 15 minutes more, stirring occasionally.