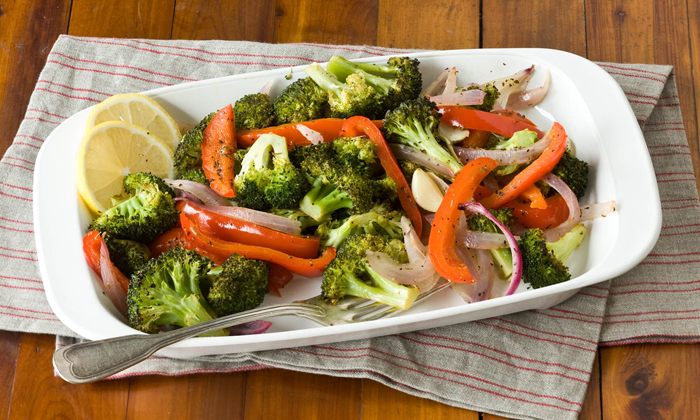 Roasted Broccoli, Red Pepper and Onion
The combination of roasted broccoli, sweet pepper and onion works well as a side dish with grilled fish, poultry or meat.
Ingredients (10)
6 cup Broccoli Florets
1 Red Bell Pepper
1 Red Onion
4 Garlic Cloves
1¼ tsp Italian Seasoning
½ tsp Kosher Salt
¼ tsp Freshly Ground Black Pepper
3 T Extra Virgin Olive Oil
1 T Fresh Lemon Juice
or 1 T Bottled Lemon Juice
Directions
Heat oven to 425F.
In a large bowl, combine broccoli, red pepper, onion and garlic. Sprinkle with Italian seasoning, salt and pepper. Drizzle oil over top and mix with a large spoon.
Transfer vegetables to a shallow baking pan and bake 20 minutes, mixing once, until broccoli is browned in spots and tender. Return vegetables to bowl; add lemon juice and mix gently.