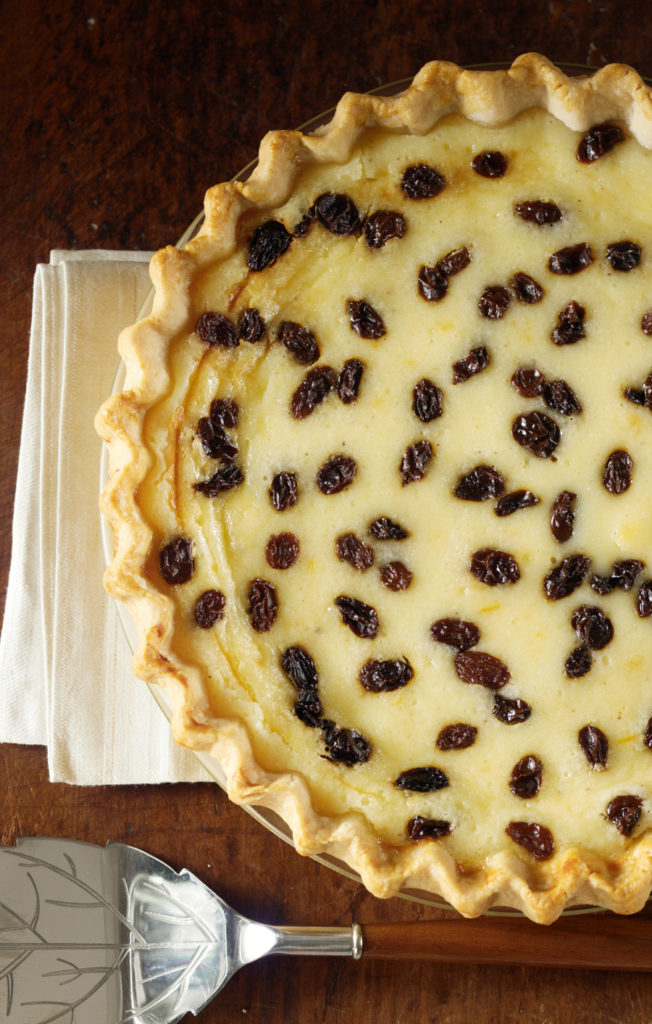 Sour Cream Raisin Pie
Creamy filling and plump raisins, plus a hint of orange.
Ingredients (12)
Pie Crust
1¼ cup All Purpose Flour
½ tsp Salt
¼ cup Unsalted Butter
¼ cup Vegetable Shortening
¾ tsp Cider Vinegar
Filling
2 Eggs
1 cup Sugar
1 tsp Freshly Grated Orange Zest
¼ tsp Ground Nutmeg
2 cup Sour Cream
1½ cup Raisins
8 T Whipped Cream (optional)
Directions
To prepare the pie crust, stir together flour and salt in a large bowl. Add cold butter pieces and work into the flour using a pastry blender or two knives. Add the shortening and work into the flour. Combine the ice water and vinegar in a small cup. Add to flour mixture about 1 tablespoon at a time while tossing with a fork. Continue mixing until the dough just gathers into a ball. Flatten into a 1-inch-thick disk, wrap tightly in plastic wrap, and refrigerate about 2 hours. Roll dough on a lightly floured surface into an 11-inch circle and fit it into a 9-inch pie plate (ovenproof glass preferable). Crimp edges.
Preheat oven to 375F.
To prepare the filling, beat eggs in a medium bowl; brush rim of pie crust with 1 teaspoon beaten egg. To remaining egg, add sugar, orange rind, nutmeg and sour cream; beat until evenly blended.
Sprinkle 1 cup raisins over bottom of pie crust; pour sour cream mixture over top. Sprinkle remaining 1/2 cup raisins on top. Bake 30 minutes or until filling is set. The filling puffs up as it bakes and settles as it cools. Cool on a wire rack. Serve with whipped cream.