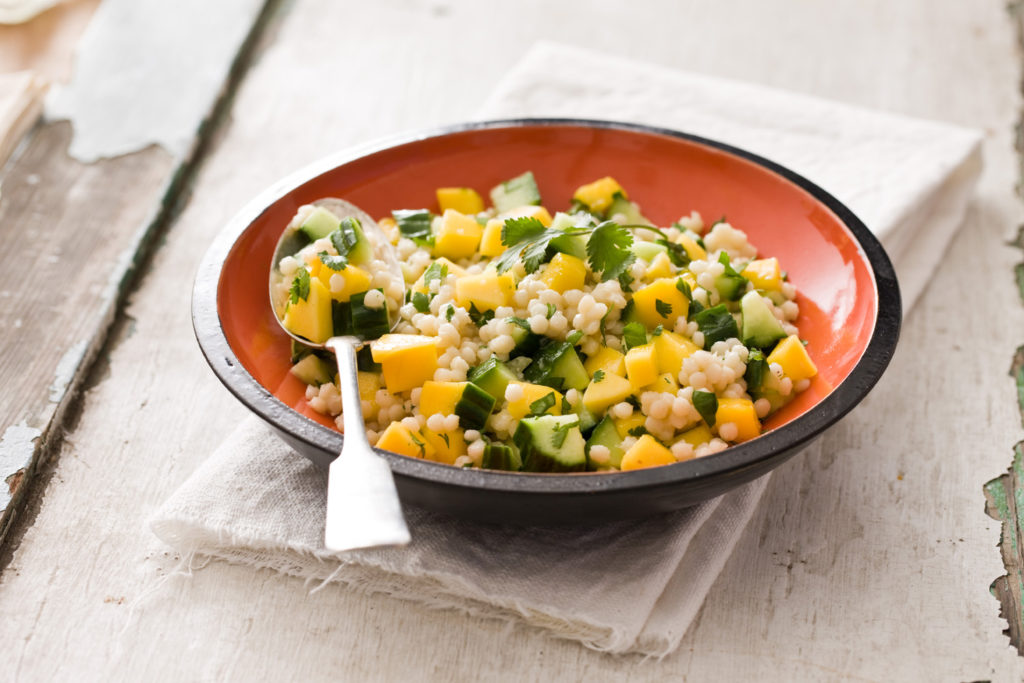 Israeli Couscous with Mango and Cucumber
Sweet mangoes combine with Israeli couscous in this summery salad.
This is light salad is perfect with lamb. The key here is balance, with each ingredient contributing a part but not overwhelming the others. Israeli couscous is sometimes called "pearl couscous" or "giant pasta pearls."
Ingredients (10)
2 cup Low Sodium Chicken Broth
6⅓ oz Pearl (Israeli) Couscous
2 T Olive Oil
2 cup Cubed Mango
2 cup Chopped English Cucumber
1 cup Chopped Cilantro
2 T Honey
1 Lime
½ tsp Kosher Salt
¼ tsp Freshly Ground White Pepper
Directions
Combine broth and water in a large saucepan; bring to a boil. Add couscous; cover and cook, stirring occasionally, until liquid is absorbed and couscous is al dente. Remove from heat and place into a mixing bowl. Stir in 1 tablespoon olive oil to prevent grains from sticking. Let cool.
Add mango, cucumber and cilantro; toss well.
Whisk together honey, lime juice, remaining 1 tablespoon olive oil, salt and pepper. Pour over couscous; mix well.