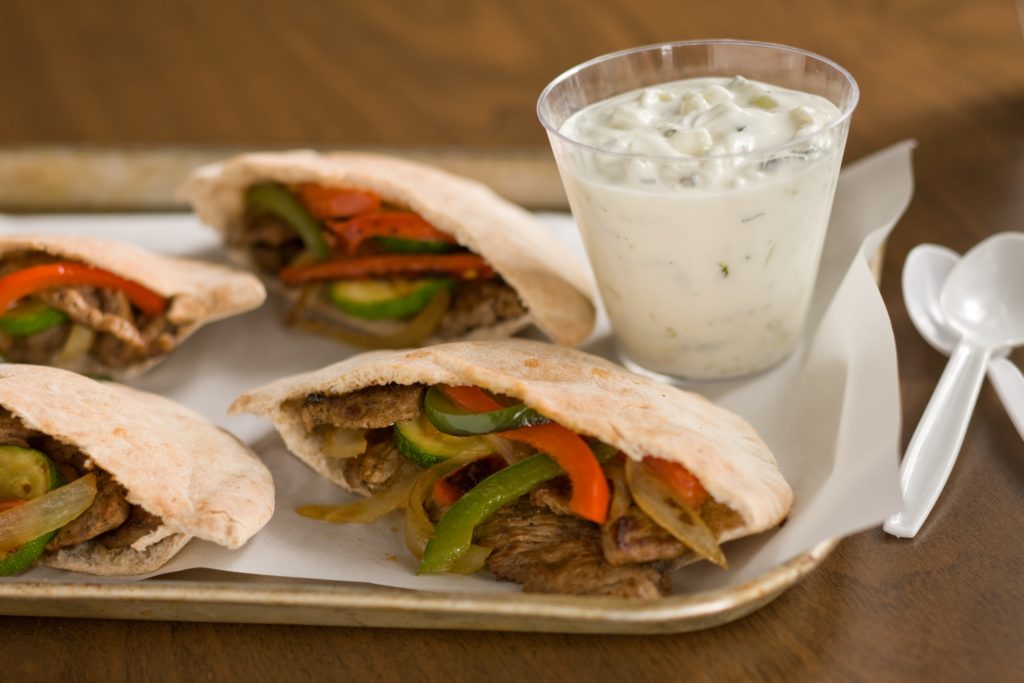 Beef and Vegetable Pita Pockets
Perfect for lunch, these healthy pita sandwiches pack in a lot of vegetables.
Ingredients (18)
Yogurt Sauce
1 cup Plain Yogurt
¼ cup Diced Cucumber
½ T Chopped Mint
1 T Fresh Lemon Juice
1 tsp Extra Virgin Olive Oil
¼ tsp Kosher Salt
Pita Pockets
2 T Extra Virgin Olive Oil
4 Onions
¼ cup Chopped Red Bell Pepper
¼ cup Chopped Green Bell Pepper
¼ cup Sliced Zucchini
¼ cup Chopped Tomato
¼ tsp Ground Coriander
½ tsp Ground Cumin
¼ tsp Kosher Salt
¼ tsp Freshly Ground Black Pepper
1 lb Top Round Beef
4 Pita Pockets, Whole Wheat
Directions
To prepare sauce, mix all ingredients in a small bowl.
Preheat oven to 300F.
To prepare pita pockets, heat 1 tablespoon oil in a heavy skillet over medium-high heat until hot but not smoking. Add onion and bell pepper; sauté, stirring occasionally, until browned, but still crisp. Add zucchini and tomato; sauté 2 to 3 minutes more. Transfer vegetables to a large plate.
Stir coriander, cumin, salt and pepper together in a bowl. Pat beef dry with paper towels and place in bowl. Toss to coat well. Heat 1 tablespoon oil in pan over medium-high heat. Add meat and sauté, stirring, until browned but still pink inside, 1 to 1 1/2 minutes. Transfer beef to plate with vegetables.
Wrap pitas in foil and place in oven until warm. Halve the pitas and fill with meat and vegetables. Serve sauce on the side for spooning into pitas.