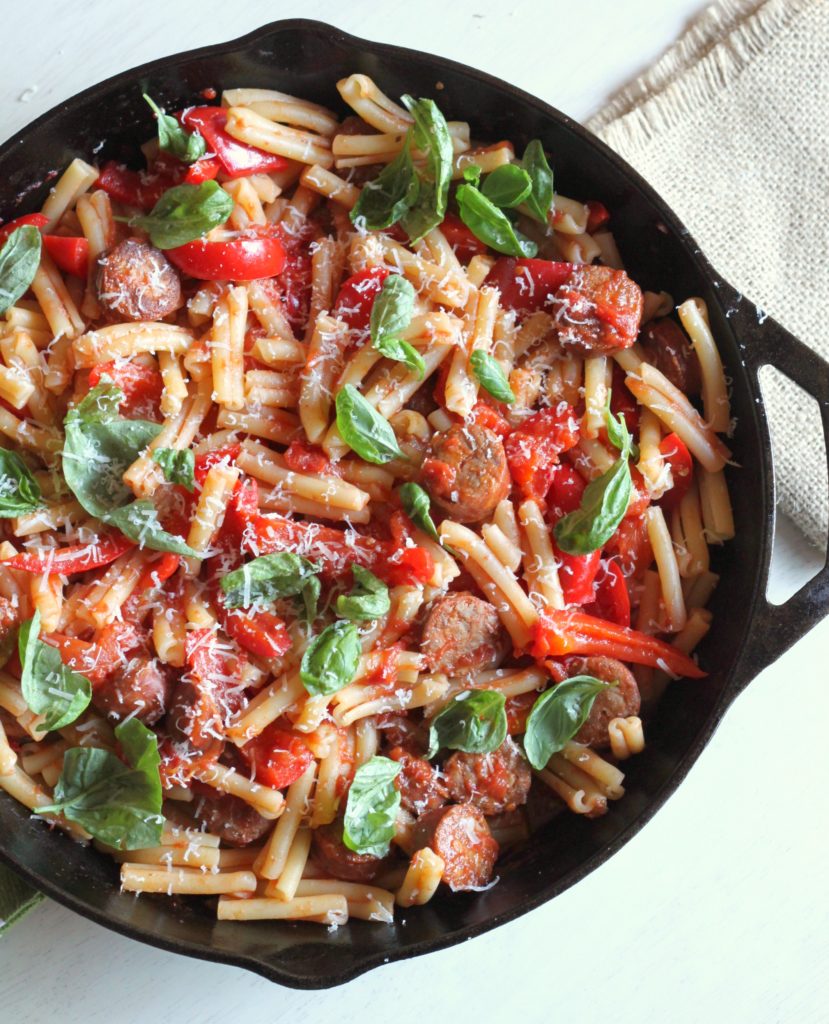 Hearty Sausage and Pepper Pasta with Tomato Sauce
A quick weeknight pasta dinner, packed with protein and veggies.
Ingredients (12)
1 T Olive Oil
¾ lb Italian Sausage Links
2 Red Bell Peppers
2 Garlic Cloves
½ tsp Red Pepper Flakes
28 oz Canned Plum Tomatoes
½ tsp Salt
½ tsp Freshly Ground Black Pepper
1 lb Penne Pasta
or 1 lb Rigatoncini Pasta
½ cup Fresh Basil
6 T Grated Parmesan Cheese
Directions
Heat olive oil in a large skillet over medium-high. Add sausage. Cook until browned, about 4 minutes. Remove from pan and drain on a paper towel. Pour off all but 1 Tbsp fat.
Add bell peppers. Cook over medium heat until crisp-tender, about 2 minutes.
Add garlic and red pepper flakes and cook 1 minute.
Add tomatoes, salt and pepper. Cook over medium heat, breaking up tomatoes with a spoon, until sauce thickens, 5 to 8 minutes.
Return sausage to pan; cook 1 to 2 minutes.
Stir in pasta.
Top with torn basil leaves and grated Parmesan cheese.