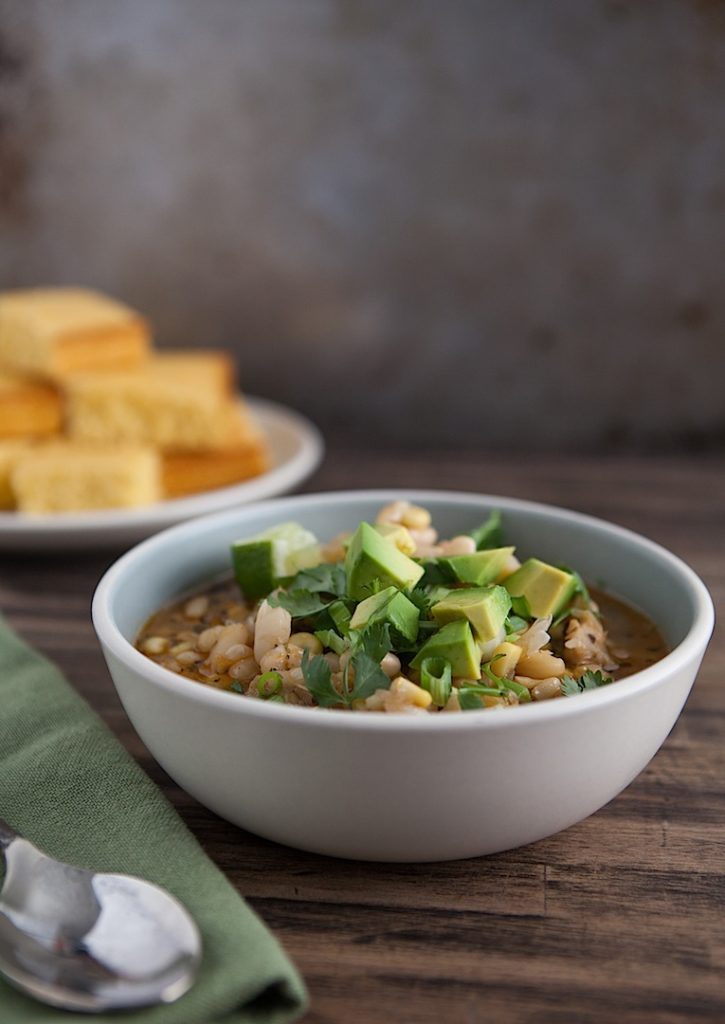 White Chicken Chili
A lighter version of traditional chili featuring juicy chicken thighs, white beans, lime and avocado.
In a pinch? Use canned beans instead of dried. Add the canned beans along with the chicken stock and corn.
Ingredients (20)
Chili
1½ lb Skinless Boneless Chicken Thighs
2 T Canola Oil
1 Onion
4 Garlic Cloves
2 tsp Kosher Salt
½ tsp Dried Mexican Oregano
1 tsp Ground Cumin
½ tsp Ground Coriander
1 tsp Guajillo Chili Powder
1 tsp Chipotle Powder
6 cup Chicken Stock
10 oz Frozen Corn Kernels
or 10 oz Fresh Corn Kernels
or 10 oz Canned Corn
4 cup Cooked Navy Beans
or 4 cup Canned Navy Beans
Optional Toppings
1 Cilantro Bunch (optional)
1 Green Onion Bunch (optional)
2 Avocados (optional)
2 Limes (optional)
Directions
If using dried navy beans, soak overnight and pre-cook 30 minutes before adding in step 5.
Heat canola oil in a heavy dutch oven over medium heat. Add minced onion. Stir and continue to cook over medium heat until soft; about 5 minutes.
While onion is cooking, cut chicken thighs into bite-sized pieces. Add chicken to onions, stir and cook over medium heat for 5 minutes.
Add garlic and salt. Reduce heat; simmer for 1 minute. Add Mexican oregano, cumin, coriander, guajillo chili powder and chipotle.
Add chicken stock and corn; stir to mix well. Bring to a boil then lower heat to a simmer and cook for 30 minutes. Add beans and cook for another 30 minutes or until thickened.
Spoon into serving bowls, season with salt and pepper and serve with toppings.