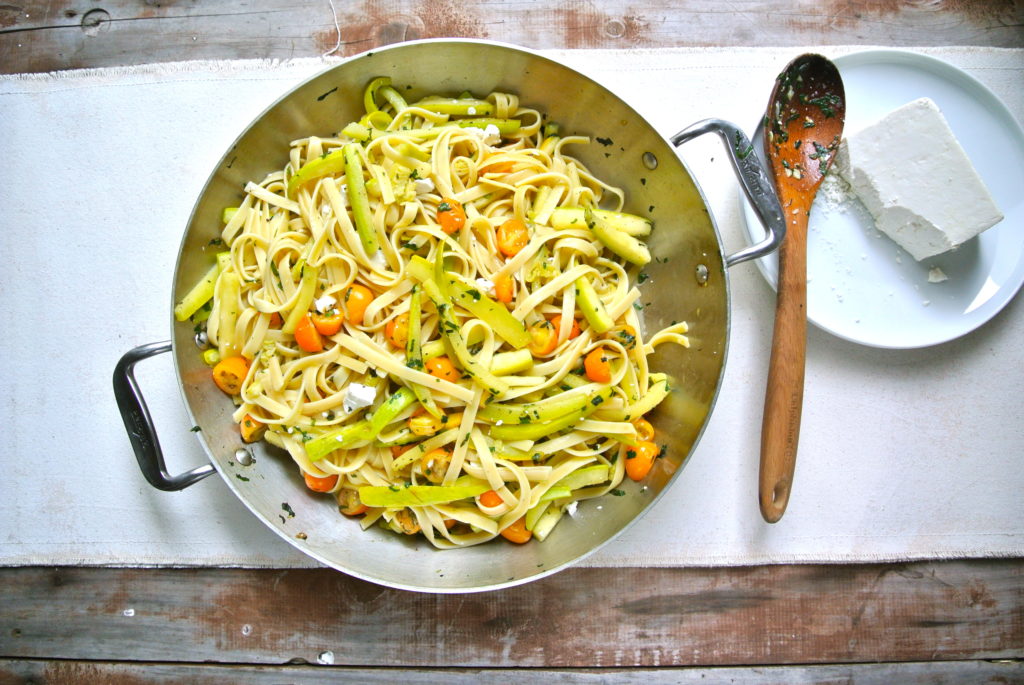 Fettuccine with Squash and Mint
Fettuccine pasta and ribbons of squash entwine to offer up this lovely taste of summer.
Ingredients (9)
4 T Olive Oil
1½ lb Yellow Squash
or 1½ lb Zucchini
1½ pnt Cherry Tomatoes
1 cup Chopped Mint
1 lb Fettuccine Pasta
½ tsp Salt
1 tsp Freshly Ground Black Pepper
1 cup Grated Ricotta Salata Cheese
Directions
Heat a large pot or saucepan over medium heat and add olive oil. Add squash and sauté 2 to 3 minutes. Stir in cherry tomatoes and mint. Cook for another couple of minutes and remove from heat.
Bring lightly salted water to a rolling boil in a large pan. Add fettuccine and cook according to package directions. Drain, reserving 1 cup cooking liquid.
Toss pasta into the pot with the vegetables. Add salt, black pepper and a drizzle of extra-virgin olive oil. Add reserved pasta cooking liquid, tossing and folding, so that the squash strips become entwined with the pasta ribbons. Sprinkle in the ricotta salata as you fold.