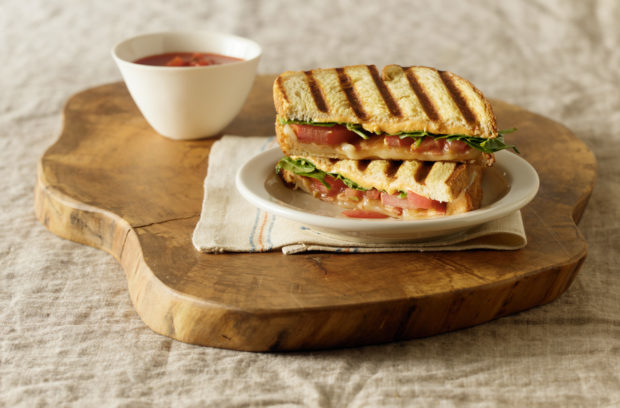 Italian Breakfast Panini
This easy Italian sandwich is delicious for breakfast, lunch or dinner!
Panini (pronounced pah-NEE-nee) means "little breads," but these toasted Italian sandwiches pack big flavor. Originating in Italy as a humble cafe snack, they have crossed the Atlantic to become an easy light meal. You can put just about anything on a panini, but hearty breads and pungent fillings work best. Sourdough bread, cheese and fresh spinach add zip to this sandwich, perfect for breakfast, lunch or dinner.
Ingredients (12)
3 Eggs
¼ tsp Salt
1 tsp Freshly Ground Black Pepper
1½ oz Cheddar Cheese
1 Roma Tomato
1 cup Baby Spinach
2 Bacon Strips
1½ oz Provolone Cheese
4 Sourdough Bread Slices
3 T Tomato Basil Sauce (optional)
or 3 T Marinara Sauce
or 1 tsp Chopped Basil
Directions
Scramble eggs with salt and pepper.
Layer Cheddar cheese, tomato, spinach, bacon, eggs and provolone cheese on 2 slices of bread. Top with remaining bread.
Cook 3 minutes in a grill pan. Serve with tomato basil sauce on the side, if desired.