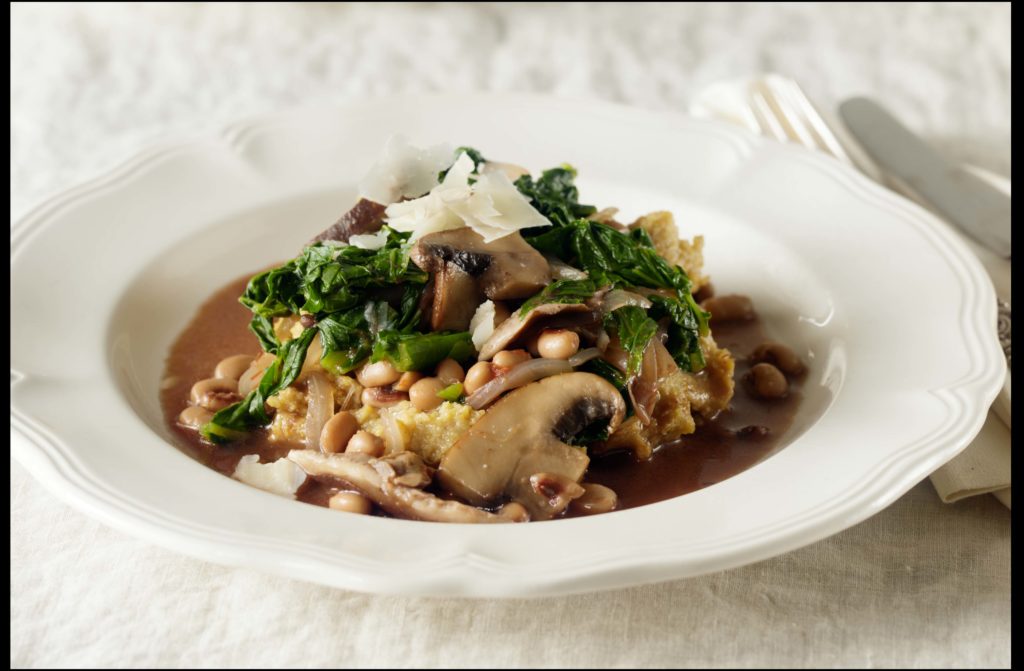 Mushroom and Black-Eyed Pea Ragout
Serve this thick and hearty vegetarian stew over creamy Parmesan polenta.
A ragout (ra-GOO) is a thick stew of meats or, in this case, vegetables. It's great with the creamy Parmesan Polenta, but also good with mashed potatoes or even grits.
Ingredients (21)
3 T Olive Oil
1 Onion
¼ lb Shiitake Mushrooms
2 oz Cremini Mushrooms
2 oz Baby Bella Mushrooms
or 2 oz Oyster Mushrooms
4 Garlic Cloves
2½ cup Mushroom Broth
or 2½ cup Vegetable Broth
1 T Tomato Paste
½ cup Red Wine
30 oz Canned Black Eyed Peas
½ tsp Salt
½ tsp Freshly Ground Black Pepper
¼ tsp Honey
¼ tsp Tabasco Sauce
1 Kale Bunch
or 1 Mustard Greens Bunch
or 1 Chard Bunch
4 cup Prepared Polenta
½ cup Shaved Parmesan Cheese (optional)
Directions
Heat oil over medium heat in a large nonstick skillet. Add onion, mushrooms and garlic; saute until onions are soft, about 5 minutes.
Add broth, tomato paste, wine, black-eyed peas, salt, pepper, honey and Tabasco; bring to boil. Reduce heat, and simmer 20 minutes or until sauce thickens slightly. Stir in greens; cook until thoroughly heated.
Spoon Parmesan Polenta into serving bowls. Top with ragout and garnish with Parmesan shavings, if desired.