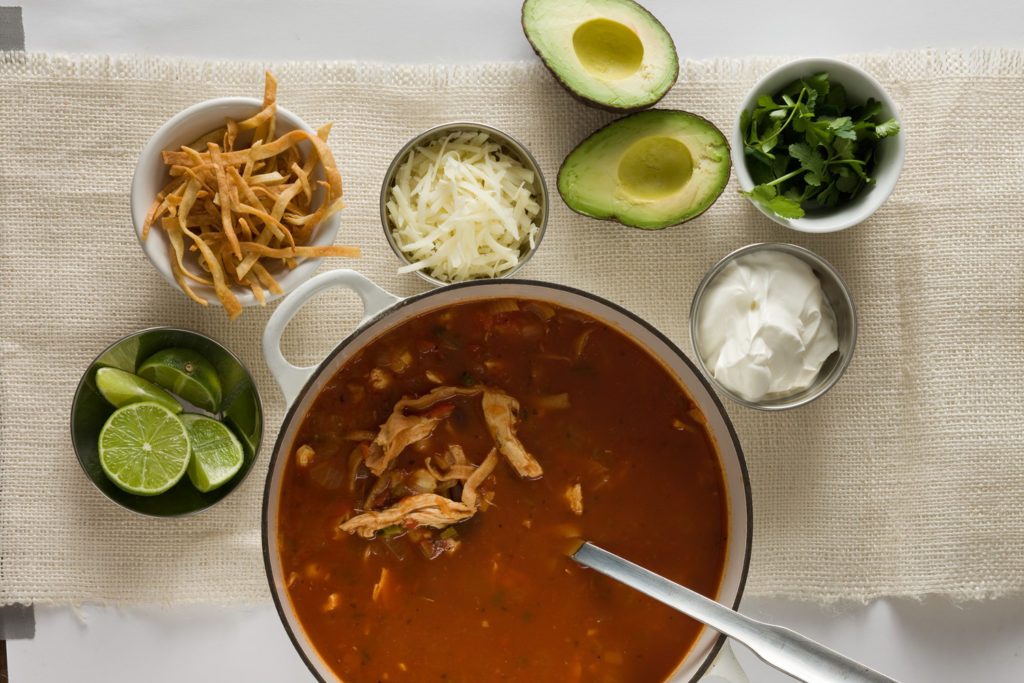 Tortilla Soup
A hearty, healthy soup that comes together quickly. The variety of fresh ingredients from oregano to cilantro will surely make this a meal to be remembered.
Ingredients (22)
1 T Extra Virgin Olive Oil
1 Onion
3 Garlic Cloves
1 tsp Chili Powder
2 tsp Ground Cumin
1 tsp Paprika
1 tsp Dried Oregano
28 oz Canned Crushed Tomatoes
4 cup Low Sodium Chicken Broth
8 Corn Tortillas, 6in
15 oz Canned Hominy
1 Poblano Chile
or 1 Anaheim Chile
or 1 Jalapeño Pepper
15 oz Canned Black Beans
1½ cup Cooked Chicken, Shredded
¼ cup Chopped Cilantro
1 tsp Salt
1 Avocado
½ cup Shredded Manchego Cheese
or ½ cup Shredded Monterey Jack Cheese
½ cup Sour Cream
Directions
Heat oil in a large stockpot over medium heat. Add onion and garlic to pan. Saute until soft. Stir in spices, tomatoes, chicken broth, water and 1/2 of the tortilla strips. Bring to a boil, reduce heat and simmer 10 to 15 minutes.
Stir in hominy and next 5 ingredients (hominy through salt). Simmer 10 minutes.
Pour soup into bowls and top with remaining tortilla strips, avocado, cheese and a dollop of sour cream. Makes 12 cups.