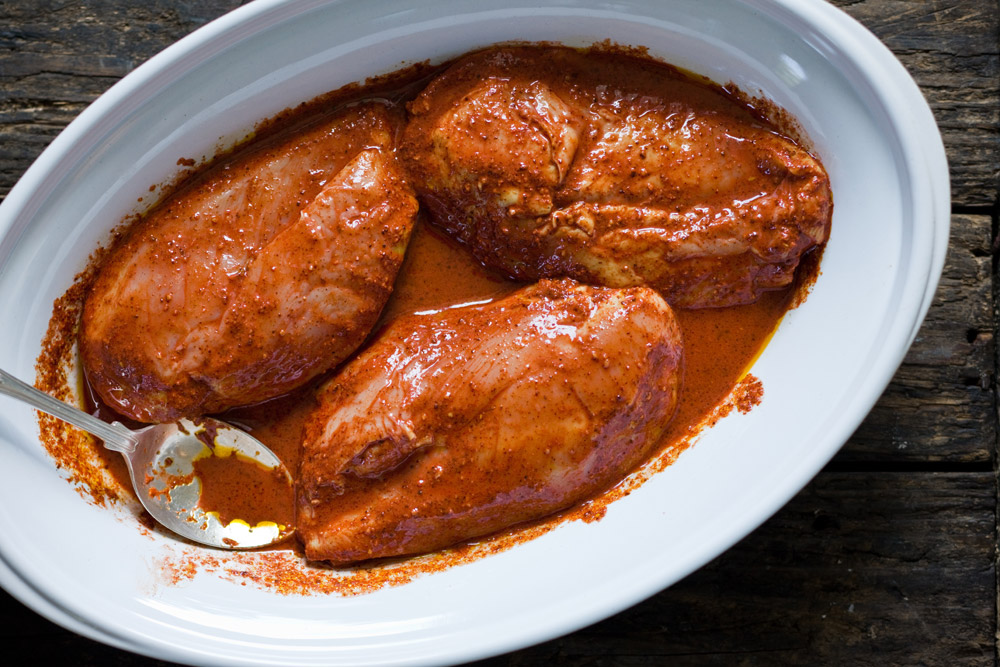 Grilled Achiote Chicken
Spicy achiote seasoning kicks this chicken up a notch—or three.
Ingredients (10)
Marinated Chicken
1 7oz Achiote Seasoning Packet
½ cup White Vinegar
2 T Vegetable Oil
4 Chicken Breasts, Boneless, Skinless, 6-8oz ea
Achiote Citrus Sauce
2 Garlic Cloves
¼ cup Fresh Orange Juice
¼ cup Fresh Lime Juice
¼ tsp Salt
1 tsp Freshly Ground Black Pepper
4 T Chopped Cilantro
Directions
To prepare chicken, dissolve achiote seasoning in vinegar and oil. Add chicken, turn to coat well, and marinate in the refrigerator 1 hour.
Prepare the grill. Remove chicken from marinade, reserving marinade. Grill chicken until done, about 7 minutes per side. Remove chicken to platter, and tent with aluminum to keep warm.
To prepare sauce, pour reserved marinade into a saucepan; add garlic and juices. Bring to a boil, reduce heat and cook, stirring, until sauce is the consistency of a thin cream sauce. (If sauce gets too thick, thin with a little water.) Add salt and pepper. Serve sauce over chicken. Garnish with chopped cilantro.